Hunter PS Spray Sprinklers

Whether it's an oddly-shaped lawn, a curvilinear shrub bed, or a narrow strip, the PS gets it precisely. With efficient water distribution from truly proficient nozzles that are built right into the sprinkler. Each integral nozzle has adjustable radius and discharge rates for precise fitting to the landscape. The adjustable arc nozzle lets contractors easily create arc patterns of 1° to 360° for even more versatility. There's an extra-large filter screen to trap more debris than most. It's factory-installed at the bottom, yet easy to remove for cleaning. PS: the spray sprinkler of choice for fast and easy installation.

Hunter Mini-Clik® Rain Sensors

The simplest, most effective way to prevent your sprinklers from coming on during or after precipitation is the Hunter Mini-Clik®. Easily installed on any automatic irrigation system, Mini-Clik shuts sprinklers off in a storm and keeps them off, automatically compensating for the amount of rainfall that occurred. Disks absorb water and then expand proportionally to the amount of rain that fell.
As the moisture-laden disks expand, they eventually activate a switch that interrupts the circuit from the controller to the solenoid valves. Once dry, they contract and release the switch. Thus, the Mini-Clik automatically resets without ever affecting your controller.
Hunter ICC Controllers
Versatile modular design
Provides easy addition of more stations and improves inventory management
4 fully-independent programs
Each with separate day cycles, 8 start times, offering total flexibility for complex landscapes
Independent day schedule options for each program
Maximize scheduling choices (select days of the week, odd/even days, interval up to 31 days)
Non-volatile 100-year memory
Program data is retained during power outages, without need for battery
Programmable pump circuit by station
Use pump only when needed; accommodate dual water sources
Cycle and Soak capability by station
Allows run times to be divided into repeat cycles to minimize run-off
Remote-control ready
Supplied with SmartPort® connector for use with SRR/ICR remote controls and SRP PC programmer
Hunter PGV Valves

Heavy-duty Hunter solenoid
Provides dependable operation and long life
High grade construction
Made of durable PVC and stainless steel to resist wear
Internal manual bleed
Easy to use and keeps valve box dry
Flow control
Adjust the flow of each zone on a system
Rigid diaphragm support
Works to prevent stress failure in tough conditions
Globe and angle configurations
Easy to use in any application
Captive bonnet bolts and solenoid plunger
No lost parts during servicing
Accu-Set™ pressure-regulator compatible
Dial setting pressure regulation for precise system control
Hunter PGP Rotary Sprinklers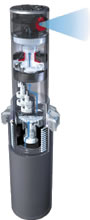 Integral rubber cover with membrane-covered sockets
Keeps dirt out, permanently installed
Through-the-top adjustment with helpful symbols
Easiest to adjust, wet or dry
Quick Check Arc/Fast Forward
For quick verification of arc stop points
Complete set of interchangeable nozzles
12 standard or 7 low-angle nozzles for virtually any task
Factory-installed nozzles available
Choose the convenience of pre-installed nozzles for large projects
Radius adjustment of up to 25%
Easy fine-tuning without changing nozzles
Reversing full-circle and part-circle operation in one unit
For fastest, hassle-free adjustment, 40°-360°, wet or dry
Proven, long-life water-lubricated gear drive
First introduced over 15 years ago and still continuously improved (U.S. Patent numbers 4,568,024 and 4,718,605)
Advanced riser seal
Industry's most reliable and proven pressure-activated wiper seal
Large dirty water screen
Puts an end to nozzle clogging
FEBCO Model 765 Pressure Vacuum Breaker

In most pressure vacuum breaker systems, when freeze damage occurs, the bronze body breaks. This can mean expensive replacement of the valve and the inconvenience while the valve is reinstalled and the piping refitted. But FEBCO's Model 765 is designed so that the body will not break. During a snap freeze, the less-expensive plastic internal components may freeze and break, preventing the body from being damaged. This "freeze plug" feature means easy replacement of the plastic internal parts at a fraction of the cost of replacing the whole valve.